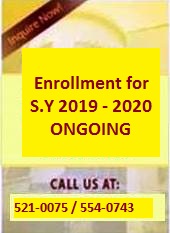 High School Dept.
711-09-91
521-00-75
7110648
711-14-26 Fax.
Grades School Dept. Annex II
711-11-03
554-07-43
Email Add:
esps1947@esps.edu.ph

Espiritu Santo Parochial School is a basic education institution, gifted with a core of faculty members and staff who are highly trained, rich in experience, loyal and committed in producing graduates who are academically competent and endowed with desirable Christian values. Its curriculum is designed primarily to meet the great demands of a highly competitive world. With this, ESPS creates a learning community where students are given the opportunity to develop their unique intelligences.
Latest News
APPLICANTS FOR SCHOOL YEAR 2019-2020
Scholarship Grants Available for
FIRST HONORS - FULL 100% DISCOUNT ON TUITION FEE
SECOND HONORS - 50% DISCOUNT ON TUITION FEE
THIRD HONORS - 25% DISCOUNT ON TUITION FEE
Incoming Grade 7 may avail of Php. 13,000.00 GASTPE Scholarship
Incoming Grade 11 may avail of Php. 18,000.00 / Php. 22,500 GASTPE Scholarship
Grades 1 to 11 : Academic Scholarship / Grade 11 Aisle Seat Scholar
posted : 04-08-2019
ENROLLMENT PERIOD
ANNEX 1 BLDG. :
EARLY ENROLLMENT (All Levels) April 10-30, 2019
Grade 11-12 May 2-3, 2019
Pre-Nursery, Nursery, Kinder May 6-7, 2019
Grade 1-2 May 8-9, 2019
Grade 3-4 May 10 and 13
Grade 5-6 May 14-15, 2019
Grade 7-8 May 16-17, 2019
Grade 9-10 May 20-21, 2019
ENROLLMENT HOURS :
MONDAY-FRIDAY 8:00 AM - 2:00 PM
posted : 04-08-2019
You may visit our Facebook @ esps1947 / URL : ESPS.EDU.PH
posted : 06-09-2016